Exterior Trim And Siding Repair For Your Albuquerque Home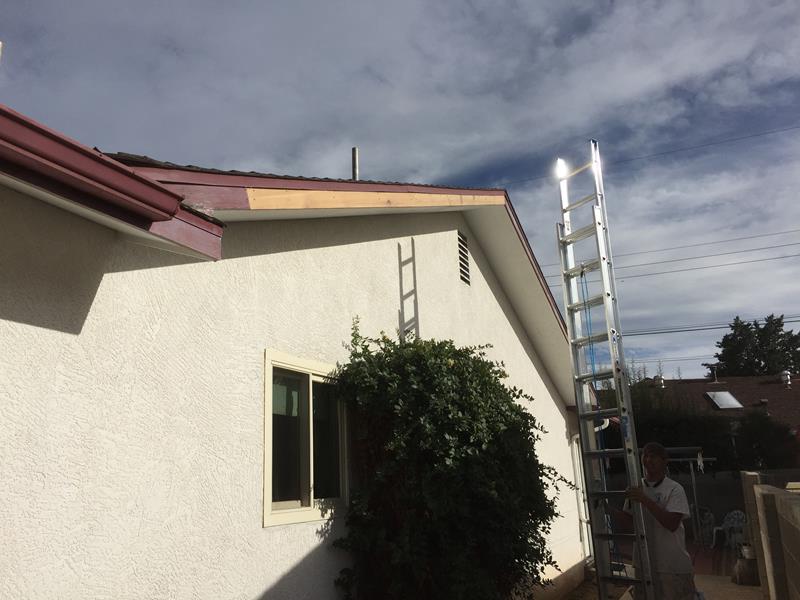 Cutting Edge Painting, Inc. is the name to depend on for exterior trim and siding repair in the Albuquerque area. If your home needs a few exterior carpentry repairs or an exterior door installation, our experienced Albuquerque painters can take care of the work for you.
It's not uncommon for water damage to spread once it starts. Wood rotting and dry rot damage affect all types of homes in the area. In addition to water damage, homes often suffer from insect infestations such as termites or wood ants.
Whether your siding, exterior trim work, or exterior doors have aged or been weather damaged, it's essential to repair or replace the wood so that the problem doesn't spread to the surrounding areas. Don't let the problem get worse; contact us today to set up an estimate for exterior trim and siding repair or exterior door installation. We offer reasonable quotes and top-quality carpentry services that you can depend on at any time.
Serving Albuquerque Since 1996
Expert Carpentry Work
Competitive Estimates
Fully Licensed and Insured
Exterior Door Installation
An Albuquerque home isn't complete without strong and sturdy entry and exit doors. If you need to replace a front or back door to your house, let Cutting Edge Painting, Inc. visit your home and help you with the exterior door installation project. We can make sure you have a properly installed door that's both attractive and functional.
Fiberglass Doors
Front Entry Doors
Sliding Glass Doors
Exterior French Doors
Patio Doors
Storm Doors
Screen Doors
Porch Doors
Sunroom Doors
and more
Why Choose Us For Exterior Trim and Siding Repair
Sometimes the home repairs and maintenance can be too complex to do yourself or can be overwhelming. When taking care of your Albuquerque home, there is always a load of tasks to do.
Whether you have the time and skill to do the exterior trim and siding repairs or not, you can save yourself the time and trouble by hiring our professionals at Cutting Edge Painting, Inc..
With our services, you won't have to worry about carpentry repairs for your home to keep it in great shape; we can do all the tasks for you! Give us a call to get an estimate for items on your to-do list today!
---
Recent Articles & Tips
Albuquerque Interior House Painting is a Quick Way to Improve a Home

Changing the interior design of an Albuquerque house will be too expensive if furniture will have to be replaced. What could be the simplest solution? Change the interior painting of the house! Not o […]

Orange for Autumn?

What is October's prime color? Orange, of course—the whole range of harvest shades of turning leaves and gathered crops that denote the end of the annual growing season. And the month ends with an or […]