The Red Kitchen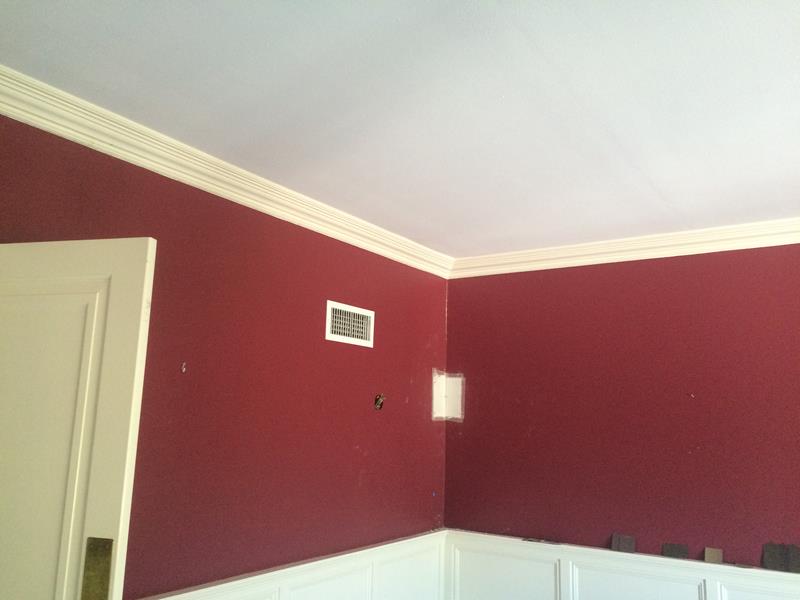 By John Freeman – Owner, Cutting Edge Painting, Inc.
A family member of one of my customers has a brother and a sister-in-law, who live in another state. She went to visit them last week, met her baby nephew for the first time, and got to tour the home that her brother's family is building, which should be done later this summer.
She was excited because after our consultations, she learned a lot about how interior painting works – colors, finishes and wall types.
During the home tour, her brother mentioned that his wife has always wanted a red kitchen. While she loved the idea, she remembered the challenges she had choosing such a strong, bright color in her home.
She remembered that the deep ruby color she had used on an arched entryway to her bathroom looked great in the home improvement store, and seemed to match the window dressings and accessories she had hand-picked. But when all was said and done, what she had in mind certainly hadn't wound up on the walls. And there's nothing worse than having second thoughts on a paint job after all the money and time.
She lived with the final product but really disliked the results. It wasn't the color, really – it was actually stunning. But she used a satin finish that reflected the light rather than giving a warm, intimate feeling that she desired.
Plus, after coats and coats of paint, she still had streaking, with spots of the original white paint showing through.
Wisely, she came to see us Cutting Edge Painting, Inc. when she decided to get rid of the red. She still wanted a deep, rich color on the walls – but my team of experts and I doing the job right got the results she most wanted.
Here are our tips for painting with deep, rich colors.
We'll visit with you one-on-one about the project at hand. Sometimes, my customers think that a room saturated in color will give them the effect they want, when in reality an accent wall might give them what they want. We also discuss the paint finish – from flat to high-gloss – and how it will affect the look; and the level of light in the space.
Once all that is decided, we make sure that the walls to be painted are perfect – any ding, nail hole or bump will be exponentially magnified when using dark colors.
After all the walls are patched, sanded and smooth, we make sure that they are clean and free of grime or dirt. This is especially important in a place like a kitchen, where grease and dirt accumulate.
A deep-tint primer is essential when using a highly saturated color. It gives us the look we want in fewer coats and less cost. Don't be surprised that it isn't as vivid as the final color, but rest assured the primer will help with those light-colored patches so frequently seen during DIY jobs.
We use a technique called "cutting-in" to make sure that the paint line is perfect around doors, windows, and corners. Finally, we carefully apply the vibrant color, inspecting for bumps, uneven patches and finish all along the way.
If our customer's sister-in-law makes sure that these things are taken care of by qualified professionals, I'm sure she'll be delighted with the final product. And if a ruby red or sunny yellow kitchen is in your future, give Cutting Edge Painting, Inc. – your New Mexico painting experts – a call at 505-855-0199 to start working out the details.