#thedress and Paint Color Selection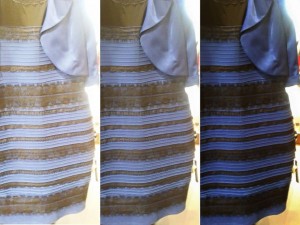 By John Freeman – Owner, Cutting Edge Painting, Inc.
A couple of weeks ago, you may have seen #thedress debacle.
An internet sensation, it was a photo of a dress from a wedding reception that someone was selling online. Oddly, some people saw the dress as gold and white, others as blue and black, yet others saw it as light blue and copper. Scientists and medical experts weighed in, explaining that the mysterious color changes were due to the angle and lighting of the photo, or the resolution or angle of people's computer screens, or the fact that all of us have differing levels of cones and rods in our eyes that regulate color distinctions.
A lot of folks also have this issue when it comes to selecting colors for their homes. What seemed like a lovely green in the home improvement store may look positively nightmarish on the walls. When light hits a dark tan paint in the living room, it turns a sickly yellow.
As professional painters, it's our job at Cutting Edge Painting, Inc. to help you balance the grand color schemes in your mind with professional knowledge of how color and paint truly work.
First thing to consider is the technology that's out there. There's a huge selection of apps by almost all paint manufacturers in the market that offer color tools. Play around with the colors! Experiment! See what works and what doesn't, and start honing down your selections.
Next, give us a call at 505-855-0199 to set an appointment for an in-home visit. We'll use our years of expertise to help guide you with how the light and shade, as well as the finish of the paint, will influence your color visualization.
If you're truly stumped with what colors will enhance your living or working spaces, we'll come and show you our diverse portfolio, or you can visit it here on our website, www.cuttingedgepaintingnm.com. Just go to the "gallery" button at the top of the page and look at our jobs in both residential and commercial spaces.
Save time, save money, and save heartache – using a professional, locally owned and operated painting company like Cutting Edge Painting, Inc. is the best decision when it comes to filling your living space with color.