Why Choose a Professional Painter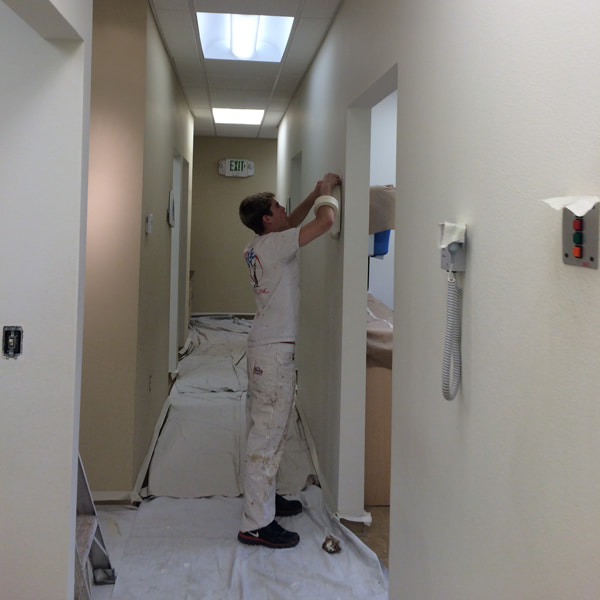 By John Freeman – Owner, Cutting Edge Painting, Inc.
You may be a weekend warrior when it comes to tasks around your house. Landscaping, cleaning, small construction projects – you've done them all! And painting seems to be a simple, fun way to spruce up your surroundings.
However, what may have looked like a task that could be done in a day turns into weekend after weekend of ladders, tarps, tipped paint cans, and multiple trips to the home improvement store. What you thought was a lovely color or a textured finish in a display turns into a nightmare on your walls. And improper prep work creates an unattractive final result that wastes your time and hits your wallet. Perhaps it's time to consider putting down the brush and picking up the phone to find a painting contractor.
Knowledge is Power: Working with an educated consumer always results in a positive experience for all involved. Here's some tips and questions to consider when choosing a professional, Albuquerque-based painter.
Expectations & Communications: Don't let the lowest bid be your deal-breaker. It's important to find a contractor who has great references and can provide a comprehensive quote that is clear and understandable for both parties. You'll want to work with a painting contractor with whom you feel you can both communicate and be heard. Do you feel like the contractor listens to your wants and concerns? Have the schedule and payment terms been given to you in writing and are clearly understandable?
Quality Products: Does your painter work with quality products and tools, and have strong knowledge in surface preparation and the unique weather conditions we have here in Albuquerque that may cause issues down the road? Do they provide you with test boards or test spots of paint or finish/texture samples? And most importantly, does your painter stick with the quality of products promised in the quote, not trying to save money by painting with an inferior product?
Professionalism + Knowledge = Great Results! There's a lot of questions here for you to consider – but each is imperative in ensuring a great-quality, long-lasting paint job. Get your weekends back by hiring a professional, Albuquerque area painting contractor!
My team here at Cutting Edge Painting, Inc. is fully licensed and bonded for all aspects of your painting job. My long-time employees, with their appropriate tools of the trade, can get the job done quickly, eliminating the dangers and hazards of the job with professional knowledge and appropriate safety equipment; plus we'll do the entire cleanup and disposal, leaving you with a completed, clean home.
Call us today at 505-855-0199 and let's discuss your project!